We help small business and entrepreneurs rock their online presence on WordPress.
Don't Get Caught Out
Let's face it, your website is often the first thing your clients and customers see of your business, and if it is not running optimally and delivering a positive user experience, it could adversely affect your reputation and your profitability.
It is estimated you have from three to six seconds to make a good impression on a visitor to your website, and if it is not functioning correctly, if it has broken links, or if your visitors are unable to find the information they have come to your site for, they will leave quickly and move on to your competitor.
And with 97% of customers looking for businesses on Google and other search engines, you can bet that they will quickly move on to the next business listing without you even realising it.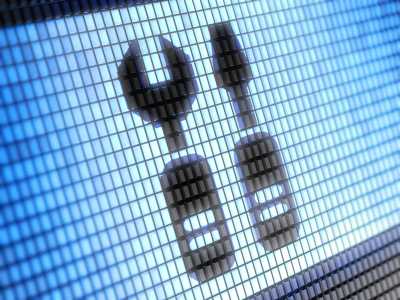 Consider
Matrix Designer
 with our comprehensive maintenance service to suit any budget, when you are considering the critical importance of your website health to your business.
Web maintenance services performed by a third party can substantially reduce operating costs by eliminating the need for extra web professionals with required expertise.
By engaging Matrix Designer services for your website maintenance, you will ensure you know upfront what your costs are for keeping your website running smoothly 24/7.
And since you only have one chance to make a great impression, our services deliver you the peace of mind to know that your customers will always have a great experience with your company and your brand from their first visit to your site.
It's Easy!
It's very simple to get started. Visit our Services Page and select your plan.
You will then be prompted to complete our Contact Form. Our Basic Plan offers the most critical services, such as theme, plugin and platform updates, regular security and malware scans, plus weekly backups stored securely offsite, at a very affordable price.
And if you need that extra service assurance, for instance if you require regular maintenance hours, then select either our Essentials or our Enterprise plan.
Fill in your details on our contact form and we'll get right back to you to help you get started right away with the most suitable option for your website.
You can always change your plan to suit the requirements of your business.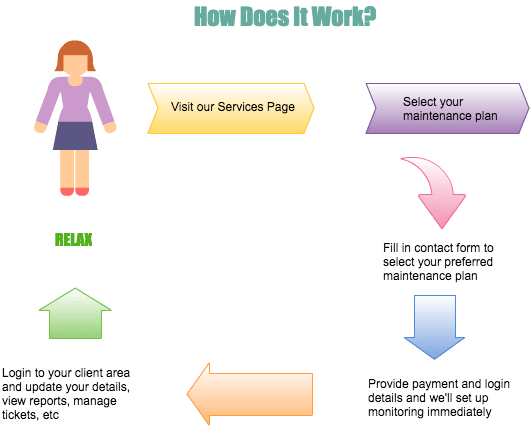 Once your account is setup we require your WordPress login details to set up monitoring. You can then visit your client page on our site for reports, profile updates and helpful information. Finally, just sit back and let us take care of your site.